CASE STUDY Svet nápojov [World of beverages] in the online world
---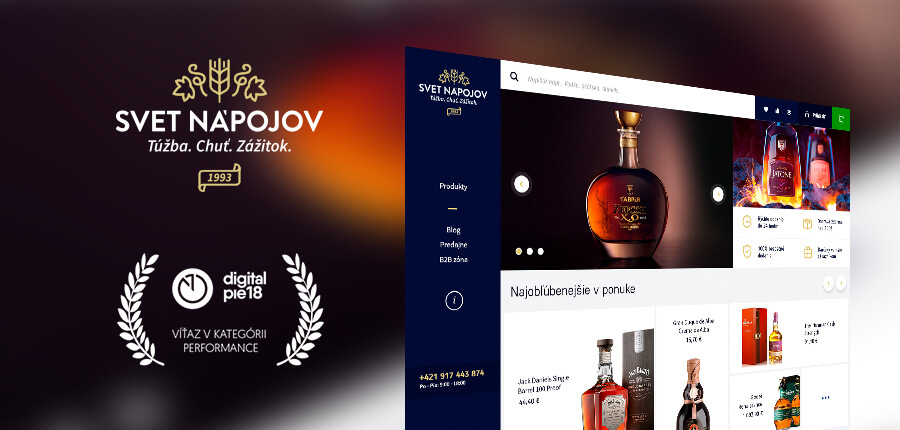 Článok je dostupný aj v Slovenčine
The results of our campaign for the e-shop Svetnapojov.sk exceeded not only our expectation, but also our client's, and due to the success of the project, we received the Digital PIE 2018 Award in the Performance category.
At the end of the article you will find a video (in Slovak), or you can follow this link.

What did the client require?
At the beginning of our cooperation, a single goal was set:
"Achieve a year-over-year increase in campaign revenue of 20 % while maintaining ROAS."
Between February and December 2017, we achieved an overall year-over-year increase in campaign revenue of 109 %, all the while maintaining ROAS.
How did we achieve our goal more than 5 fold?
The results of our campaigns were influenced by many factors. First off, the client had already been offering a great shopping experience (rated at 99 % on Heureka out of nearly 2000 ratings at the time this blog was published) and a wide range of drinks.
This gave us a strong foundation to work with, so we focussed on 3 main attributes:

Improving performance channels,
rebranding,
building a new e-shop, based on a UX analysis,
Performance channels
Despite the limitations of individual networks (because of the sale of alcohol), we made most of our campaigns. We focused on the following channels:
Heureka

– Heureka (a price comparison site).

Google AdWords Search

– with

AdBOOST

, we've been able to automate product advertising, so we always link the user to that product's details and show the current price in ads.

Facebook Dynamic Remarketing – we've launched dynamic remarketing but have also made the most of our own custom graphic templates through AdBOOST, so communicating the brand Svet nápojov [World of beverages] in interesting ways instead of running uninteresting banners.

An example of the Facebook Dynamic Remarketing with and without graphic templates: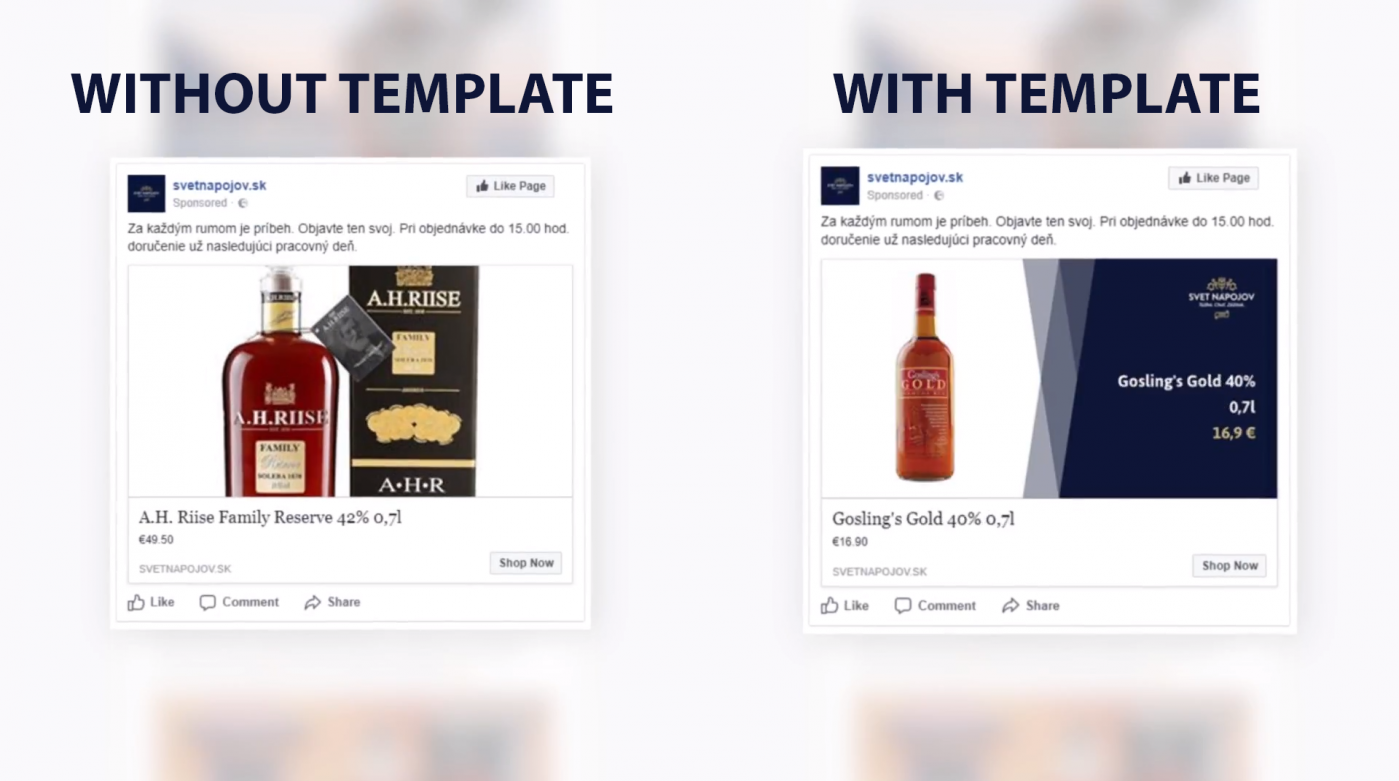 Rebranding
The World of Beverages branding has been great since the beginning, and the reasons we immediately enjoyed relationship with this client were due to their approach to their business, the long-running market for alcoholic beverages, and the way they care for their customers.
Unfortunately, the original logo (a combination of colours and typography) and overall communication didn't express these qualities well. New upscale branding and communicates the respect and sense of tradition this brand is looking to acquire.
New e-shop
The design of the e-shop was built using the classic UX process. Our first step was to set measurable goals, which were to increase the conversion rate, increase traffic, simplify the buying process, and generally improve user experience for site visitors.

Using quantitative data (analytics, tracking user behaviours (tracking maps and video recordings) and customer feedback, we focused on improving the main drawbacks of the site, which were difficult navigation and category structure, unclear communication of product information, such as the number of bottles in large packs, communication of key parameters such as volume and alcohol content, a complex purchasing process and poorly communicating the purchase benefits, such as guaranteed delivery without damage and hassle-free returns.
We created concepts for solutions that we tested in simple prototypes, which became the basis of an effective solution. The total rebranding and tailor-made brought the results we saw on the year-over-year conversion rate.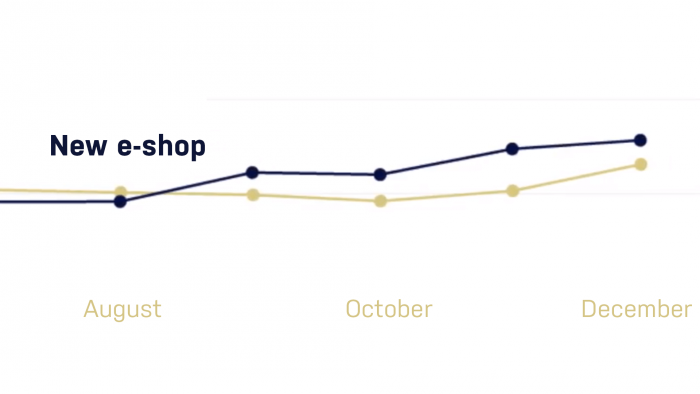 Functional side of the new e-shop
Are you more interested in the features the new e-shop has? Our Lead Developer Milan summed it up briefly:
Svetnapojov.sk was built using our RSHOP 3.0 e-commerce platform. It uses PHP 7.1, MySQL and advanced search and product filtering is implemented using Elasticsearch.
As part of SEO optimization, meta tag parameters are automatically generated for individual pages and Google schema is implemented for easier parsing by Google bot. We also implemented several performance optimizations such as lowering page code size and server response time or minimizing and combining CSS and JS files."
The site contains fully-implement and enhanced e-commerce tracking, Google Tag Manager and Facebook Pixel.
This site includes several modules such as wishlist, watchdog, product comparison and newsletter synced with Mailchimp in addition to the base core RSHOP 3.0 features.
Customer can sign in using social accounts on Google+ and Facebook. News from Svetnapojov.sk blog are automatically parsed from the blog feed and displayed on the shop main site.
Summary
Together, we've achieved not only an increase in campaign revenues, but overall we have strengthened the client's domain, proven by the client's overall results. YoY, the entire domain reached a 108 % increase in revenue (while campaigns reached 109 % YoY revenue increase and maintained ROAS).
Do you want to grow your business with us just as our clients do? Then contact us at [email protected].
And here's the video we promised:)